Music Recording Software For Songwriters And Musicians
Music recording software for your home recording studio offers many benefits in today's computer and Internet driven world.
This discussion of music recording software for your home music recording studio will focus on how by using computer based music recording software you can not only get sophisticated audio recording capability for very low cost but also have a whole new world of collaborative opportunities opened up because of it.
Some music recording software benefits include:
first of all it's software, so it saves you the
purchase of another piece of equipment
since it's software it's space saving, especially
important if you have a closet studio like me :-)
if you've got the computer then just add a
microphone and speakers and you're all set
similar features found in standard four track or greater
recorders like reverb, compression, EQ, distortion, etc.
record everything digitally to your computer's
memory (hard drive) as an mp3, WAV file, etc.
with all digital recordings you can email tracks
and or songs readily to co-writers and
with some programs others can record a
track for you and send it to you via the
Internet and you can download it into
your own program to mix into your song
readily send fully mixed (complete) songs via
email to various song pitch opportunities
typically as an mp3 file
affordability, a number of programs are
well under a $100
To elaborate on my points above I'm going to refer to a remarkably affordable, simple to operate, yet respectably sophisticated home music recording studio software program called Power Tracks from PG Music.
The picture below depicts the familiar look of a standard multi-track recorder of Power Tracks. This is the look of the mixer board of Power Tracks as it would appear on your computer screen albeit much larger of course ;-)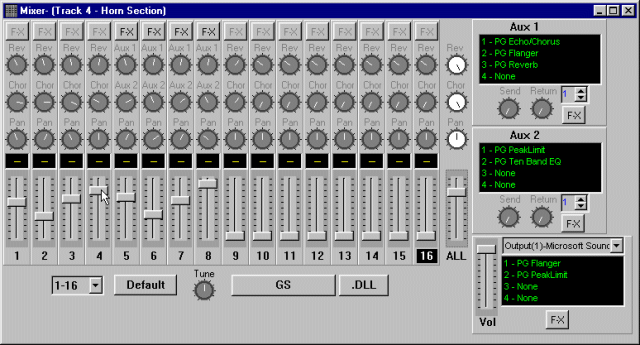 Power Tracks is an easy program to manipulate with standard click and drag functionality and in many ways works just like a manually maneuvered portable four or eight track recording unit.
If you've got a lap top then your "home studio" is road trip ready in an instant but you better have a good audio card (see page about audio cards by clicking here).
Just Getting Your Feet Wet? Or A Seasoned Pro?
Music recording software like Power Tracks is well suited to beginners and those more experienced with music recording software technology.
In particular a program like Power Tracks is well suited to songwriters (who may not be very good recording engineers) and is easy to develop applications as your recording skills grow. Also, it is very affordable program and the live phone-support available, even on weekends, is excellent.
Typical software should have at least eight recordable tracks that you can mix together into a final rendition of your song. Each track should have also its own fader, level meter, mute and erase and individual effect controls. All these features are found in Power Tracks and commonly used effects include reverb, compression, distortion, chorus, gate and equalization.
Another nice thing about a program like Power Tracks is that there is a ton of support to get you jump started into using the program including video tutorials that you can peruse on the Power Tracks site before you even buy the program. Add to that the written, email and live phone support and you'll easily get over any hurdles you encounter.
With Power Tracks it's easy to start simple just recording a guitar on one track or piano and your voice on another to get used to using it. In fact a lot of times you may only want to record a guitar-vocal or a piano-vocal to present your song to other writers (i.e. for getting their feedback on your song before you do a complete demo adding tracks for drums, base and a maybe even a tambourine). Of course you can play it on your computer for yourself or others; email an mp3 or click and burn a cd of your song.
Another great value in this department is Mixcraft from Acoustica. Mixcraft comes with built in effects like reverb, flanger and EQ and has DirectX and VST effects capabilities, etc., all the standard sequencing features plus more.
Accordingly, Mixcraft is a very adept sequencing program for songwriters and an affordable and easy download. It's now on its third generation of tweaks and improvements.
Incredible Possibilities For Online Collaboration
With a program like this you get not only an excellent recording tool on your computer but via being linked to the internet and you can prepare and send tracks to another collaborator or have them record and send you a track like a guitar track, a drum track and even vocal tracks with ease. As long as they have Power Tracks or Mixcraft or another similar digital recording program (more noted below).
Once you've arranged for a collaborator to record a track for you they record it on their software and then they either upload it to a site or email it to you.
In practical terms it generally works better for files to be uploaded to a site if they're large, like several megabytes or more, versus trying to email a track as many Internet service providers (isp) have limits on the size of files they allow to be emailed. Check with your isp before trying send or have files sent to you.
Once you've got access to the track file you then simply download it or open it from an email attachment into a program like Power Tracks or Mixcraft and you are ready to play and mix into your song.
Also, if you or someone are preparing tracks to share you can also record the data to a CD and send it through the mail. Snail mail still has a place for now :-)
In another example let's say you've recorded your female vocal and you want a male version as well. You could find a male vocalist online and have him record a track on his software for you. He can email it or upload it to a site, you download it, then simply remix your tracks, muting the female vocal, and now you've got two versions of your song without having to pay for another demo session. Or even use the male or female vocals as background vocals where ever you want in the song. The possibilities are limitless.
Need a special instrument track? Say you're in Canada or Australia or Russia or South Africa and you want an authentic sitar sound. Look up a sitar player online who can record and upload that track to add that special touch to your song. All this without having to leave the comfort of your keyboard, and you'll make a new friend too :-)
Special note. Please read my primer on working out a written collaboration agreement before you even start to co-write a song. Please click here for more on this and get a FREE copy of the collaboration agreement I use to adapt to your own usage. I explain how to use it if you're mainly or only communicating with your collaborators by email.
Notable PC And Mac Programs
Power Tracks is currently just a windows based program and other great windows programs that have similar ability in their base versions include CakeWalk and also Steinberg's Cubase.
For Macs you'd primarily be looking at Cubase again (the Mac version of course) and Logic and its lighter but very capable version Logic Express and a long time Mac based program Digital Performer.
All these programs entry level versions are often more than enough capability for most songwriter's needs and you can always upgrade.
Top of the line systems that include hardware components as well include programs like ProTools that is most regarded for it's audio recording capabilities and not so much midi.
Looking For A Music Oriented Computer For Recording?
If you're looking to invest in an Apple computer that is already pre-designed for music writing and recording check out the music configured systems at zZounds.com - Music Computers. Click on the Computer Music tab at the top of their homepage then click on Computers in the left hand menu bar.
For PC systems check out the Creation Stations presented by Sweetwater Music.
---
TrackNotes is another helpful musical recording related program that works great along side any recording system.
TrackNotes is a great way to organize all your recording track moves and ideas. Whether you use the TC8 described above or have a 64 tack manually operated console at your disposal Track Notes will help you organize and conveniently note all your recording moves.
TrackNotes allows you to make a record of the various settings and effects you use on each track you record so you have a reference to refer to as you go and for later on when you need to pick up the project again.
It also allows you to note collaboration information and other general song information and generate various reports relative to specifics of your song, your typical recording settings, your studio equipment and more.
Click here for a full breakdown of TrackNotes Features and Applications and to Order.
Tom Boyles of The PARIS Directory reviewed TrackNotes and called it "a great tool for collaboration and compilation projects...perfect for pre-session production planning." Click here to read the complete review.
---
Get an easier way to write the LYRICAL side of your song.
CLICK HERE for Lyricist - "...the songwriters best friend."
Copyright © Songwriting Software Plus. All rights reserved.
Related Articles: